Your header is your first impression.The header of your site is the first thing that your visitors see, so it's important to create a good impression. An eye-catching header will encourage people to explore further.
There is one area of your website that is always there and customers the world-wide-web overall look in the same place to find out what a particular website has to offer. The header. We look there when we first arrive to understand what type of site we are on, we look there when we have questions to see if contact info is available, we look there for help when we get confused about almost anything. Your header needs to answer your customers' basic questions immediately. All customers who arrive at your site as the result of a search want to know they are in the right place and you have only a few seconds to set them at ease and get their fingers off of the 'back' button.
Advanced Header Plugin is the perfect solution for these.Typically, header contain links to important pages on your site that potential customers will often want to visit before making a purchase or enquiry.It is important that these areas are used to their full potential, rather than being an afterthought or a 'dumping ground' for stray links that don't fit anywhere else.It sets the tone for the whole site, so think carefully about the colours and style you use.
This tutorial will walk you through steps you need to follow to install the Advanced Header Plugin on your website.
** This tutorial assumes that you are already logged in to the Admin Panel.
Installation of this plugin is very easy, but if you still need our expert to install this plugin for you, then you can purchase the service from here: https://www.socialnetworking.solutions/social-engine/socialenginesolutions-plugin-installation/
Steps to Install & Setup Advanced Header Plugin
1.

Installation of Advanced Header Plugin
In the Main menu, click on the tab Manage and select "Packages & Plugins".
3. After the successful installation of plugin as in Step 2 above, go to "Plugins" dropdown in the Main menu and then select "

SES -Advanced Header"

.
4.

Go to the Global Settings:
Activate this plugin from the Global Settings section of this plugin. These settings will affect all the members in your community.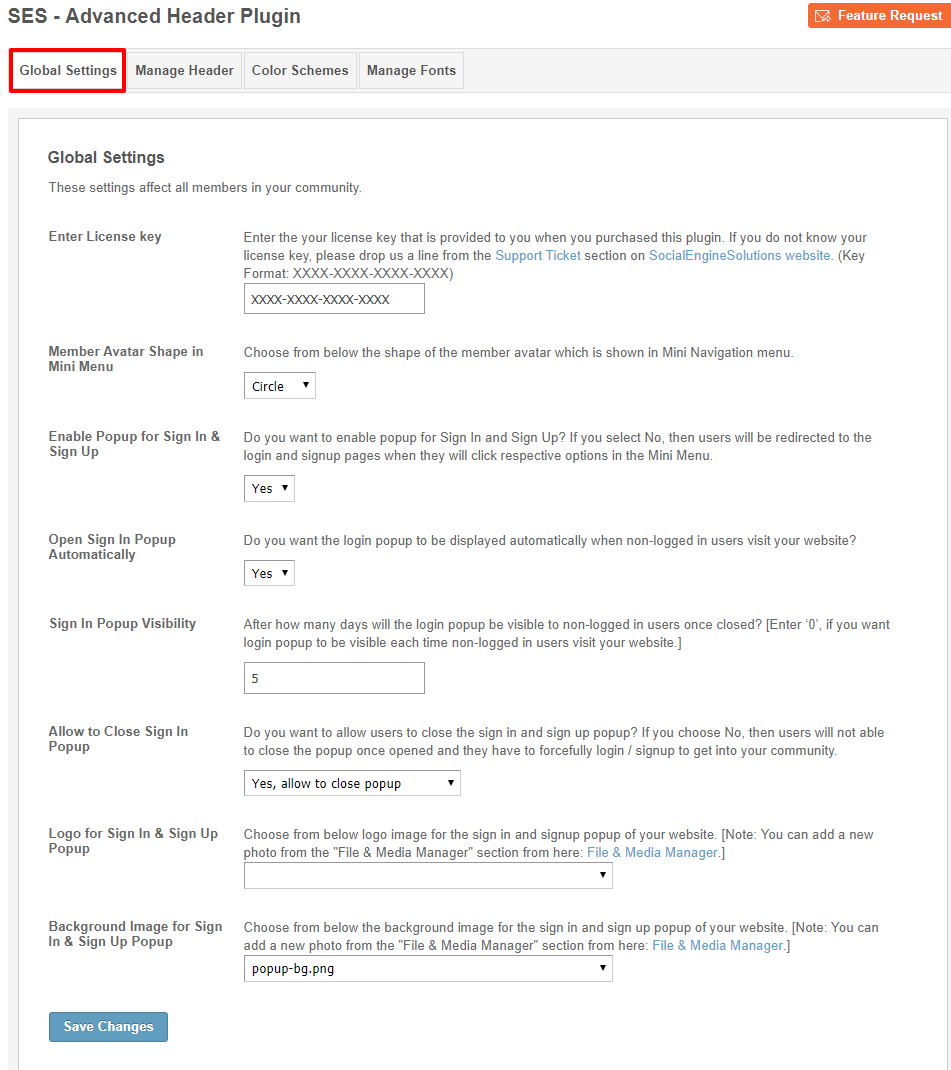 5. Go to Manage Header Settings:
This section consists of four modules as Header Settings, Manage Module for Search, Main Menu Icons and Mini Menu Icons.
Header Settings
In this section, you can choose the header templates among 15 Pre Configured Templates and can change their settings like its main menu panel effect, overlay effects, pusher effects, logo in header, etc.. After configuring the setting of templates, you can apply it using the widget "SES-Advanced Header".
Manage Modules for Search
Using this section, you can enable/disable the plugins for underlying in the search category through the search menu on the header and you can add icons also for the plugins.
Manage Main Menu Icons
Here, you can add icons for the Main Navigation Menu Items of your website. You can also edit and delete the icons.
Manage Mini Menu Icons
Here, you can add icons for the Main Navigation Menu Items of your website. You can also edit and delete the icons.
6. Manage Color Schemes
Here, you can manage the color schemes of your website.You can create as many new headers you want, edit them and remove them.The colors of all elements can be changed.

7. Manage Fonts / Typography Settings
Here, you can configure the font settings in this theme on your website. You can also choose to enable the Google Fonts.
8.
Layout Editor
Layout Editor is the only place for our SES Products where you can place various widgets for your pages and configure those widgets according to your requirement as well.
As this plugin contain two widgets, one is "SES-Advanced Header" from which we can choose the Header Designs and the other one is "SES-Custom Navigation Menu" which is used to apply the banners in the background and various settings related to it. These both widgets are placed on "Site Header" Page.
Wao! You have completed the installation and setup of this plugin now and the Header should work fine on your site.
Installation of this plugin is very easy, but if you still need our expert to install this plugin for you, then you can purchase the service from here: https://www.socialnetworking.solutions/social-engine/socialenginesolutions-plugin-installation/